Do you have:
a recent iPod touch, iPad, or iPhone
a wifi network at home
a folder full of videos on your Windows PC?
I'm looking for alpha testers for this Windows app I just made: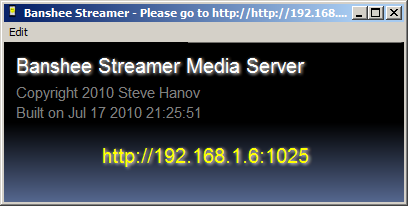 Simply install it from BansheeStreamerSetup.exe and run. Then it will give you an address to go to on your iDevice. Go there and you will see all of your videos scanned from your Windows home folder. You can play them and skip parts and everything.
There is no configuration, and no user interface of any kind yet. Just a big log file that you can copy and send to me if there are problems.
Try it out now! I just tested on Windows 7 and XP. it even works, slowly, on my EEE PC.
Since it is an alpha version it will expire in a couple months and you will require a new version.
This is different from alternatives for three reasons. First, it doesn't need a special app to be installed on your iPhone. The format it uses is already supported by the built-in media player.
Secondly, it doesn't use any extra storage on your computer. It converts the videos only when requested and doesn't store any intermediate results on disk.
Finally, it has no options to set or buttons to press. At first I did this to save time coding it, but now I'm thinking I'll leave it that way. It's not trying to be another itunes. Just start it and it's working. You can't get any easier to use.
PS: I would really appreciate it if someone who has access to the mediastreamvalidator tool from Apple could tell me what it says about my streams.
Want more programming tech talk?


Add to Circles on Google Plus


Subscribe to posts