Back in high school, I had too much free time, so I decided to play a joke on my computer teacher. I created an exact clone of the school's DOS system using QBasic. It would pretend to execute three commands: DIR, DEL *.*, and FORMAT. The simulation was so realistic that during development, I was kicked out of the lab. Usually students would be playing Secret Agent or Jill of the Jungle.
The day arrived when my project was ready to be unleashed upon the world. I waited until the teacher was hovering nearby and then I started my application, running the FORMAT command on the network drive. Some classmates were watching the screen and she hurried over to see what all the fuss was about.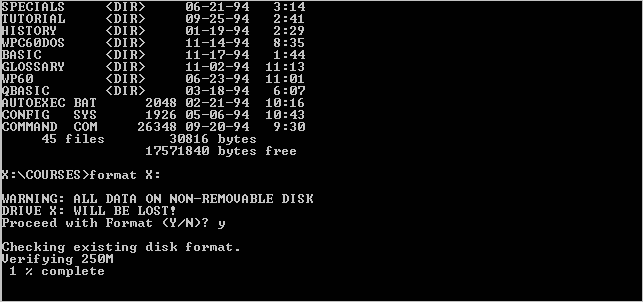 The reaction was immediate. She stared at the screen, eyes wide open, and mouth agape, as the terrible seconds ticked by. At that moment I regretted my deception and tried to abort the demo. But QBasic didn't understand CTRL-C during the SLEEP command. Pressing CTRL-C just interrupted the current SLEEP, so it caused the percentage to advance faster. I had to hold down the abort keys and wait until it advanced to 100% before I could prove that everything was really okay.
But then it said:
Unable to read from drive X:
Abort, Retry, Fail?
That was the closest I've ever come to being murdered.
Want more programming tech talk?


Add to Circles on Google Plus


Subscribe to posts