Draw waveforms and hear them
Posted seven years ago
A while back I thought it would be interesting to be able to draw arbitrary waveforms and then listen to how they sound. I had an audio engine just laying around, so I whipped up a quick application to do that.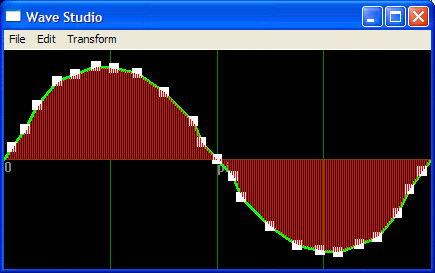 download WaveStudio.exe
Results
In theory, you can make any sound that you want. The results aren't very interesting. You can draw a sine wave and it sounds muffled. Add some jagged edges and the sound starts to sound more raw and high pitched. But it's okay to demonstrate what a sawtooth vs. sine vs. square wave sound like.
Future work
It would be a better to be able to draw in the time vs. frequency domain, using standard brush painting tools. Thay way you could come up with more interesting waveforms.
Finding awesome developers in programming interviews
In a job interview, I once asked a very experienced embedded software developer to write a program that reverses a string and prints it on the screen. He struggled with this basic task. This man was awesome. Give him a bucket of spare parts, and he could build a robot and program it to navigate around the room. He had worked on satellites that are now in actual orbit. He could have coded circles around me. But the one thing that he had never, ever needed to do was: display something on the screen.
I didn't know you could mix and match (comic)

Succinct Data Structures: Cramming 80,000 words into a Javascript file.

jQuery creator John Resig needs a little help storing lists of words in his side project. Let's go overkill and explore a little known branch of computer science called Succinct Data Structures.
Compress your JSON with automatic type extraction

JSON is horribly inefficient data format for data exchange between a web server and a browser. Here's how you can fix it.
How wide should you make your web page?

Based on 22500 unique IP addresses over the past week.
Experiments in making money online
Is it possible to make money on the internet, if you try really hard? I want to find out. I have always been interested in getting money for doing nothing.
Fast and Easy Levenshtein distance using a Trie

If you have a web site with a search function, you will rapidly realize that most mortals are terrible typists. Many searches contain mispelled words, and users will expect these searches to magically work. This magic is often done using levenshtein distance. In this article, I'll compare two ways of finding the closest matching word in a large dictionary. I'll describe how I use it on rhymebrain.com
Why don't web browsers do this?

Why don't web pages start as fast as this computer from 1984?
Exploring sound with Wavelets

Here's a program to create scalograms of sound files.