If you have to draw something called "UML Sequence Diagrams" for work or school, you already know that it can take hours to get a diagram to look right. Here's a web site that will save you some time:
You can just write the diagram out in text, click "Draw", and the web site will spit out an image. Then you can tell your boss that you slaved for hours in MS Visio perfecting every line...
Example
Here's an example of what you'd write. Notice that the syntax is very natural.

Alice->Bob: Authentication Request
alt successful case
    Bob->Alice: Authentication Accepted
else some kind of failure
    Bob->Alice: Authentication Failure
    note right of Bob: Bob clears key cache  
end

... And here's the resulting image: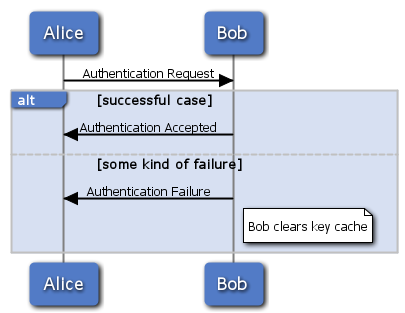 Hey, wait a minute...
Astute readers will notice that I am the author of websequencediagrams.com. Yesterday I added a note pleading with people to blog about it or at least link to it, and I figured that I should practice what I preach. So this article is nothing but a shameless plug for my other web site.
The fact is, the page doesn't have much text on it, so its hard for people to come across it by searching alone. I added it to Wikipedia and so far that's where most people find it. The more links I have, the more Googler's will find it.
Alternatives
Want more programming tech talk?


Add to Circles on Google Plus


Subscribe to posts