Succinct Data Structures: Cramming 80,000 words into a Javascript file.
Posted five years ago
Let's continue our short tour of data structures for storing words. Today, we will over-optimize John Resig's Word Game. Along the way, we shall learn about a little-known branch of computer science, called succinct data structures.
John wants to load a large dictionary of words into a web application, so his Javascript program can quickly check if a word is in the dictionary. He could transfer the words as long string, separated by spaces. This doesn't take much space once it is gzip-compressed by the web server. However, we also have to consider the amount of memory used in the browser itself. In a mobile application, memory is at a premium. If the user switches tabs, everything not being used is swapped out to flash memory. This results in long pauses when switching back.
One of the best data structures for searching a dictionary is a trie. The speed of search does not depend on the number of words in the dictionary. It depends only on the number of letters in the word. For example, here is a trie containing the words "hat", "it", "is", and "a". The trie seems to compress the data, since words sharing the same beginnings only show up once.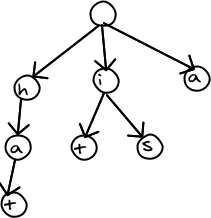 We need to solve two problems. If we transmit the word list to the web browser, it then has to build the trie structure. This takes up a lot of time and memory. To save time, we could pre-encode the trie on the server in JSON format, which is parsed very quickly by the web browser. However, JSON is not a compact format, so some bandwidth is wasted downloading the data to the browser. We could avoid the wasted bandwidth by compressing the trie using a more compact format. The data is then smaller, but the web browser still has to decompress it to use it. In any case, the browser needs to create the trie in memory.
This leads us to the the second major problem. Despite appearances, tries use a lot of memory to store all of those links between nodes.
Fortunately, there is a way to store these links in a tiny amount of space.
Succinct Data Structures
Succinct data structures were introduced in Guy Jacobson's 1989 thesis, which you cannot read because it is not available anywhere. Fortunately, this important work has been referenced by many
other papers
since
then.
A succinct data structure encodes data very efficiently, so that it does not need to be decoded to be used. Everything is accessed in-place, by reading bits at various positions in the data. To achieve optimal encoding, we use bits instead of bytes. All of our structures are encoded as a series of 0's and 1's.
Two important functions for succinct structures are:
rank(x) - returns the number of bits set to 1, up to and including position x
select(y) - returns the position of the yth 1. This is the inverse of the rank function. For example, if select(8) = 10, then rank(10) = 8.
Corresponding functions exist to find the rank/select of 0's instead of 1's. The rank function can be implemented in O(1) time using a lookup table (called a "directory"), which summarizes the number of 1's in certain parts of the string. The select() function is implemented in O(logn) time by performing binary search on the rank() function. It is possible to implement select in constant time, but it is complicated and space-hungry.
| | | | | | | | | |
| --- | --- | --- | --- | --- | --- | --- | --- | --- |
| p | 0 | 1 | 2 | 3 | 4 | 5 | 6 | 7 |
| Bit | 1 | 1 | 0 | 0 | 0 | 0 | 0 | 1 |
| rank(p) | 1 | 2 | 2 | 2 | 2 | 2 | 2 | 3 |
| select(p) | | 0 | 1 | 7 | | | | |
A Succinct Trie
Here's a trie containing the words "hat", "is", "it", and "a".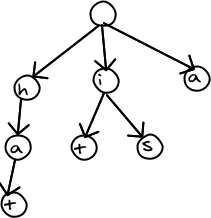 First, we add a "super root". This is just an additional node above the root. It's there to make the math work out later.
We then process the nodes in level order -- that is, we go row by row and process the nodes left to right. We encode them to the bit string in that order.
In the picture below, I've labeled each node in level order for convenience. I've also placed the nodes encoding above it. The encoding is a "1" for each child, plus a 0. So a node with 5 children would be "111110" and a node with no children is "0".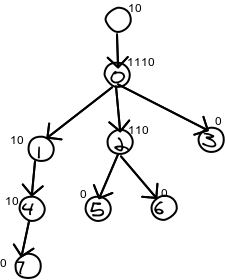 Now, we encode the nodes one after another. In the example, the bits would be 10111010110010000. I've separated them out in this table so you can see what's going on, but only the middle row is actually stored.
Position
0
1
2
3
4
5
6
7
8
9
10
11
12
13
14
15
16
Bit
1
0
1
1
1
0
1
0
1
1
0
0
1
0
0
0
0
Node
0
1
2
3
4
5
6
7
We then encode the data for each node after that. To get the data for a given node, just read it directly from that node's index in the data array.

hiaatst

Getting the data
The main thing that we want to do with a trie is follow links from each node to its children. Using our encoding, we can follow a link using a simple formula. If a node is numbered i, then the number of its first child is select0(i + 1) - i. The second child is the one after that, and so forth. To obtain the number of children, look up the first child of the i+1th node and subtract, since they are stored consecutively.
For example: We want the first child of node 2. The 3rd 0 is at position 7. Seven minus two is five. Therefore the first child is numbered 5. Similarly the first child of node 3 is found to be 7 by this formula (no, it doesn't really exist, but it works for the calculation). So node 2 has 7 minus 5 equals 2 children.
Demo
Here is a demonstration, hosted on my faster server. (Source code:
Bits.js
) (
It doesn't work in RSS readers -- go to my blog to see it
. Paste a list of words in the top text area (or click Load dictionary to load one). Click "Encode" to create the trie and encode it. This step can be very slow, because I did not optimize the encoding process. Once encoding is complete, you can use the Lookup button to check if words are in the dictionary.
Using this encoding method, a 611K dictionary containing 80000 words is compressed to 216K, or 132K gzipped. The browser does not need to decode it to use it. The whole trie takes as much space as a 216K string.
Details
The
directory
contains the information needed to compute the rank and select functions quickly. The
trie
is the bitstring representing the trie and the connections between all of its nodes.
To avoid problems with UTF encoding formats and escaped characters, the bit strings are encoded in BASE-64. All of the bit decoding functions are configured to operated on BASE64 encoded units, so that the input string does not need to be decoded before being used.
We only handle the letters "a" to "z" in lower case. That way, we can encode each letter in 5 bits.
You can decrease space usage and performance by increasing the L2 constant, and setting L1 = L2*L2. This controls the number of bits summarized in each section of the rank directory. L2 is the maximum number of bits that have to be scanned to implement rank(). More bits means fewer directory entries, but the select() and rank() functions will take longer to scan the range of bits.
Caveats
I described
how to create an MA-FSA
in a previous article. There is no known way to succinctly encode one. You must store one pointer for each edge. However, as the number of words increases, an MA-FSA (also known as a DAWG) may eventually become more compact than the trie. This is because a trie does not compress common word endings together.
Microsoft's generosity knows no end for a year (comic)

VP trees: A data structure for finding stuff fast

Let's say you have millions of pictures of faces tagged with names. Given a new photo, how do you find the name of person that the photo most resembles?
In the cases I mentioned, each record has hundreds or thousands of elements: the pixels in a photo, or patterns in a sound snippet, or web usage data. These records can be regarded as points in high dimensional space. When you look at a points in space, they tend to form clusters, and you can infer a lot by looking at ones nearby.
Why don't web browsers do this?

Why don't web pages start as fast as this computer from 1984?
Finding awesome developers in programming interviews
In a job interview, I once asked a very experienced embedded software developer to write a program that reverses a string and prints it on the screen. He struggled with this basic task. This man was awesome. Give him a bucket of spare parts, and he could build a robot and program it to navigate around the room. He had worked on satellites that are now in actual orbit. He could have coded circles around me. But the one thing that he had never, ever needed to do was: display something on the screen.
Give your Commodore 64 new life with an SD card reader

Dust off your old Commodore 64, and you could be the coolest kid on the block by plugging SD cards into it instead of floppies.
barcamp (comic)

How IE <canvas> tag emulation works
At the time of this writing, Internet Explorer at version 8.0 still lacks the <canvas> tag. But you can easily add the capability by including a short javascript file in your page. At first glance, that's astounding. How do you implement an entire vector graphics API in a few lines of Javascript?
Fun with Colour Difference
Are you looking for a nifty way to choose colours that stand out? Are you the type of person who is not satisfied until you have mathematically proven that your choice is optimal?
JZBUILD - An Easy Javascript Build System
I love languages where you need years of experience to write code that works, and languages where if you don't do everything exactly right, you will shoot yourself in the foot. Naturally, I love Javascript. Here's a simple build tool to help keep you sane.