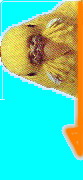 This page is dedicated to the best of all household pets -- the Budgerigar. Translated roughly, the word is Australian Aborigine for "Good to eat". YEEEUK! It's also called a parakeet, or a Melopsittacus undulatus (literally: "Bird With Big, Flesh Ripping Tooth"). Normally, we just use "budgie" for short.

The Budgie is a small bird from the parrot family that can do most things a parrot will do, but won't bite your finger off (they'll try if you give them a chance, but they just don't have the horsepower!) They can talk, they can fly to you on command, and they'll even eat your homework.

Actually, they'll fly to you whenever they feel like it. That's what Birdbrain does. I'll be typing away one something unimportant, like a report, and suddenly I'll hear this flapping sound. And WHOOOOSH! ...There's a budgie on my head. He thinks my hair is a nest. I guess that's his way of telling me I need a hair cut.

Budgies will eat your homework, but they need a lot of coaxing. Even then, they may only tear up a few square centimetres. One thing I've learned as a budgie owner is never to use the top of the bird cage as a table. I once left a book on top of Birdbrain's cage. I came back later that day, and found half the page missing, with these strange looking bite marks around the edges. Needless to say, I never did that again. I just stealthily returned the book to the library.

This web site is divided up into four main sections: Budgie Sights, Budgie Sounds, Budgie Beasts, and Budgie Pets. Click on them below if you are curious about these areas. I am most proud of the Budgie Links section, which should contain about every budgie site on the Internet. If you find one that's not on there, e-mail me and I'll add it.

The Mail Room has all of the email I've been getting regarding this sight. Many questions about budgie care are answered there. I am not an expert, but I have read many books on budgies and if I cannot answer your question right away, I will research it for you in books and on the Internet.

Happy Exploring!